Eucalyptus, Baby Blue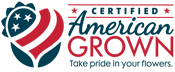 Locally California grown Baby Blue eucalyptus has a great aroma. The Baby Blue variety has kabob-like foliage, with round leaves and a stiff stem making it a popular choice for adding texture to floral art and arrangements. The best aroma of fresh eucalyptus.
Description
Shop Florabundance's huge collection of lovely, fresh-cut, wholesale flowers, wedding flowers and luxurious foliage for floral professionals.