Florabundance is honored to have received the designation as a "Certified American Grown" flower distributor/wholesaler.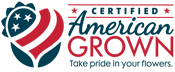 Certified American Grown Flowers represents a unified and diverse coalition of U.S. flower farms, including small and large entities in multiple states across the country. Certified American grown flower farms participate in an independent, third-party supply-chain audit to verify both origin and assembly of the flowers they grow. When it appears on bouquets, bunches and other packaging or store signage, the Certified American Grown Flowers logo gives consumers confidence in the source of their flowers and assures them that the flowers they purchase come from a domestic American flower farm. For more information about Certified American Grown Flowers, visit www.americangrownflowers.com.
Strategically located on the central coast of California, Florabundance's headquarters in the quaint town of Carpinteria happens to be surrounded by flower farms. The area is known for its rich and fertile growing conditions. This, coupled with favorable year-round temperatures, ensures a steady and consistent supply of locally grown fresh cut flowers and greens. Approximately 75% of the flowers Florabundance provides to their clients are sourced from the surrounding California flower farms. In addition to these farms, flowers are also sourced from growers in Oregon, Washington, Alaska, and Florida.
Florabundance was launched by a group of flower growers in 1994 with the purpose of shipping their flowers directly to retailers and floral designers nationwide overnight in the USA and Canada. Over the years, Florabundance has continued to streamline their operations to include a state-of-the-art website, backed by a professional sales team – many of which have a floral design background.
The team at Florabundance has noticed an increasing interest and requests for American Grown Flowers and Greens. Now with the new designation as Certified American Grown, the Florabundance website will clearly mark which flowers and foliages are grown domestically.