Florabundance becomes Certified American Grown Wholesaler
Florabundance is honored to have received the designation as a "Certified American Grown" flower distributor/wholesaler.
In case you are unfamiliar with what Certified American Grown means, here is some background information:
Certified American Grown Flowers represents a unified and diverse coalition of U.S. flower farms, including small and large entities in multiple states across the country. Certified American grown flower farms participate in an independent, third-party supply-chain audit to verify both origin and assembly of the flowers they grow. When it appears on bouquets, bunches and other packaging or store signage, the Certified American Grown Flowers logo gives consumers confidence in the source of their flowers and assures them that the flowers they purchase come from a domestic American flower farm. For more information about Certified American Grown Flowers, visit www.americangrownflowers.com.
Our team here at Florabundance has noticed an increasing interest and requests for American grown flowers and greeneries from our clients. We realize how important it is to deliver to our clients what they want! While since 1994 Florabundance has procured 70% of the flowers we offer from domestic flower farmers during their growing season, these details haven't been noted online. Our website has now been updated to clearly identify flowers and greens which are American grown! As many of you know, sourcing for certain flowers changes from local to imported as the seasons change (ie peonies, ranunculus, etc), we will keep the website up-to-date so you, the shopper, will know where the flowers you desire are being grown.
Retail florists and floral designers can now search our website by the Certified American Grown category. The iconic heart logo further identifies certified flowers and greens.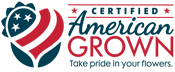 Peruse the Florabundance.com website now for premium Certified American Grown wholesale flowers and greens and join the movement to support American flower and greens farmers.